PAUL H. YOUNG "BLUE JAY" DRY FLY,
with paper tag.
PAUL H. YOUNG LOGO PRINTER'S BLOCK,
 used to print PHY catalogs.
An early PAUL H. YOUNG TRANSPARENT FLY BOX,
filled with dry flies from the PHY Co. Notice that Young's business is described as "taxidermists."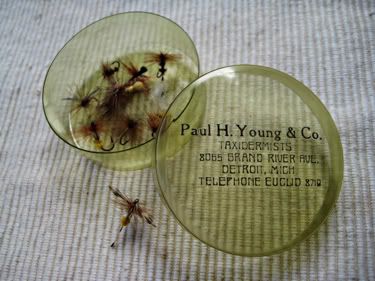 Two PHY Preen tins.
This fly and line dressing was marketed by Paul H. Young as early as 1933, and probably earlier. Bob Summers has shown me two different sizes of Preen tins, plus Liquid Preen in a small glass bottle. This tin measures 2-3/4" across, and is the larger tin.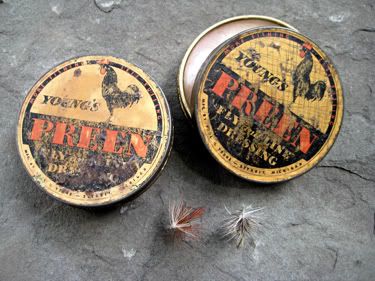 Two PHY Trik-Kutters
and a
PHY line and leader gauge
. Both tools were available at least as early as the 1930's. Shown with the materials they were designed to be used with: a packaged
PHY Spanish gut leader
, and a
PHY dry fly
(spentwing Adams Egg Sac pattern, circa 1942).
A PHY folding "Trik-Kup"
shown with its catalog listing.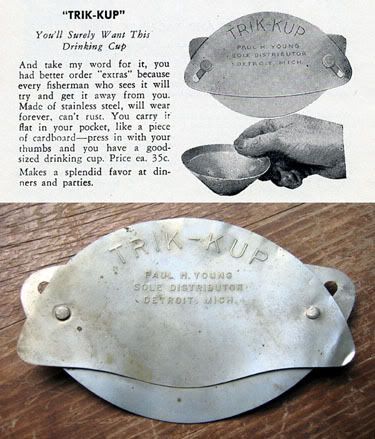 Two PHY spent-wing dry flies
, an Adams Egg Sac and a Royal Coachman, circa 1942.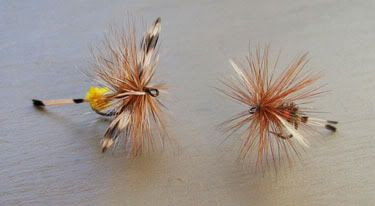 The "
Trout Fisher's Cleaning Knife
," shown with its description in the Paul H. Young tackle catalog.
Martha Marie Young's own Hardy St. George fly reel.
Mrs. Young's initials are on the reel foot of this 2-9/16" Hardy St. George Junior, and her name and the address of the PHY Co. are on the side of the leather case. Built with an agate line guide and adjustable drag, the reel came with a letter of authenticity, circa 1991, when Martin J. Keane offered it for sale in his Classic Rods & Tackle catalog, No. 74 (1998).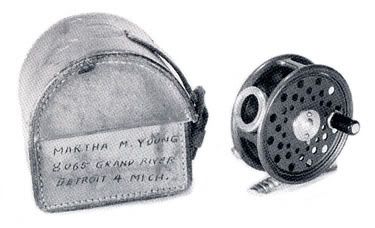 Paul H. Young's own Meek (Horton Mfg.) No. 4 bait casting reel.
Used by Paul Young in casting tournaments and for fishing, this reel was accompanied by a letter of authenticity from Mrs. Young, dated October 1985, when it sold at Lang's November 11, 2000 auction.